Edward George Wybrow (sometimes 'Whybrow') came to Chelmsford from his south London birthplace in the early 1900s. During the war he served in the army and he was killed in June 1917 by an exploding shell. His home was in Coval Lane.
WYBROW, EDWARD GEORGE,
Sapper, 511th Field Company, Royal Engineers (formerly in the Yorkshire Regiment)
News of his death appeared in the Essex County Chronicle six days later:
"Mr. and Mrs. George Wybrow, of Coval Lane, Chelmsford, have been informed of the death of their only son, Spr. E. G. Wybrow, of the R.E., killed by a shell on June 2.
He was buried on June 3 by the Congregational Chaplain, who has written to the deceased's parents a letter of sympathy. Mr. and Mrs. Wybrow have also received a letter from the Co.-Sergt,-Major, who says that Spr. Wybrow was one of the best boys he had.
Mr. G. Wybrow was well known as one of the village preachers in connection with the London Road Congregational Church, and as a postman at Chelmsford Post-office for many years, but is now in the Army Post-office, R.E., Regent's Park."
Edward is commemorated on the Civic Centre Memorial, Chelmsford. He was entitled to the Victory and British War medals.
On 31st May 1918 the Essex County Chronicle included the following in memoriam announcement:
"Wybrow. - In loving remembrance of our dear and only son and brother, Sapper E. G. Wybrow. who fell in France on June 2, 1917, aged 19 years. From Father, Mother, and Sisters, Coval Lane., Chelmsford."
The 1918 register of electors listed Edward's absent father, and mother, at 25b Coval Lane, Chelmsford (later known as number 73, pictured). His mother died in 1925, aged 50.
Edward's father married again in 1928 to Alice Mary Lancaster, sister of William James Lancaster who was killed in 1917 and is also commemorated on the Civic Centre War Memorial.
Edward's father died in 1949, aged 75.
140213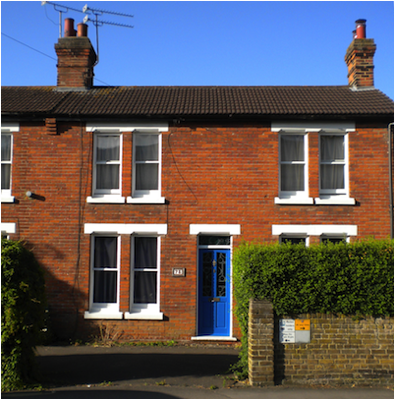 Edward was the only son of postal worker George Wybrow and Alice Wybrow (nee Wybrow) and was born in Stockwell, London in 1898.
His father had been born in 1873 in High Ongar; his mother in 1873 in Chelmsford. They had married in south London in 1897.
Edward had five siblings: Gordon CovalHenry Wybrow (born in 1900 in Stockwell, died in 1903), Alice Victoria Wybrow (born in 1901 in Stockwell, died in 1975), Olive May Wybrow (born 1908 in Chelmsford), Marjorie Wybrow (born in 1911 in Chelmsford, died in 1993) and another who died in infancy.
The 1901 census recorded two year-old Edward living with his parents and two
siblings at 25 Habgwyne Street in Lambeth, London. His father was a postman.
A decade later the next census recorded 12 year-old Edward living with his parents and three siblings at 68 Upper Bridge Road, Chelmsford (subsequently given the number 79). His father remained a postman and went on to serve for the General Post Office for forty years, retiring in 1933.
Edward lived in Chelmsford and enlisted into the army at Victoria Park in Middlesex, seeing service as Private 47926 in the Yorkshire Regiment and as a Royal Engineer Territorial (number 2732). He was killed in action by an exploding shell on 2nd June 1917 while serving as Sapper 554085 in the 511th Field Company of the Royal Engineers. He was aged 19.
Today he lies at Mory Abbey Military Cemetery, Mory, Pas de Calais in France (grave: I. H. 8).