Frederick John Young (usually known as 'Fred') was born and brought up in Chelmsford where his father ran the Plough Hotel adjacent to the railway station in Duke Street. After education at Earls Colne and Chelmsford Grammar Schools and at Bridlington he joined the Royal Flying Corps immediately after his 18th birthday in July 1917. He gained his officer commission in December 1917, learned to fly but was killed in Gloucestershire in May 1918 when his aircraft engine cut out and he crashed into a tree.
YOUNG, FREDERICK JOHN,
2nd Lieutenant, 24th Training Squadron, Royal Air Force
News of his death was published in the Essex Weekly News on 10th May 1918:
"Chelmsford Airman's Fatal Accident - We regret to record the death of Second-Lieut. Frederick John Young, eldest son of Mr. and Mrs. Fred. Young, of the Plough Hotel, Chelmsford, which occurred while flying in Gloucestershire.
The deceased, who would have been 19 next July, was educated at Earl's Colne Grammar School, and afterwards went to a public school at Bridlington and making top score at cricket for his school in his last season. He was a fine horseman and keen rider to hounds when at home.
Deceased went direct from the O.T.C. at his school to the R.F.C. about a year and a-half ago. He underwent his training in Oxfordshire. It appears that on Wednesday, May 1, he left his aerodrome to fly on a compass course at ten minutes to twelve. Having finished the course he came out of the clouds and found he had lost his way,
He therefore came down in a field in Gloucestershire to inquire where he was. Unfortunately when he took off from the field his engine cut out and the aeroplane collided with a tree and the young airman was killed instantly. At the inquest on Saturday a verdict of Accidental death was returned.
The body was conveyed to Chelmsford on Monday and the funeral took place at the Rectory-lane Cemetery on Tuesday, the Rev. Canon Lake officiating. The coffin, covered by a Union Jack and flowers, was borne from the house of the deceased's parents to the cemetery on a handbier, accompanied by an escort from the 50th Squadron of the Royal Air Force.
The chief mourners were: - Mr. and Mrs. Fred. Young, father and mother; Mr. Basil Young, brother; Mr. Charles Young and Mr. Henry Young, uncles; Mr. and Mrs. Walter Day, uncle and aunt; Messrs. Thomas, Harry, and Ernest Bovis, and Mr. Charles White, uncles; Flight-Lieut. C. F. Underwood, an old school chum; Flight-Lieut. J. H. Brooks; Capt. H. J. Collins, Squadron Commander, etc. Those also present at the graveside included Capt. White, Lieut. Burton, Messrs. G. K. Milbank (Writtle), W. Blyth, J. T. Bailey, C. J. Fewell, Ernest Christy, C. D. Savage, W. E. Poole, W. Shanks, S. J. Rowe, E. W .White, W. J. Payner, H. R. Platton, R. L. Mortimer, A. J. Thress, T. E. Sellick, H. C. Hasler, H. W. Banks. O. Eve, A. Gurney; Staff-Sergt. Speakman, and others. The floral tributes included wreaths from the officers of the 24th Training Squadron; the officers of the 7th Squadron, R.A.F.; and the officers of the 8th Training Squadron R.A.F."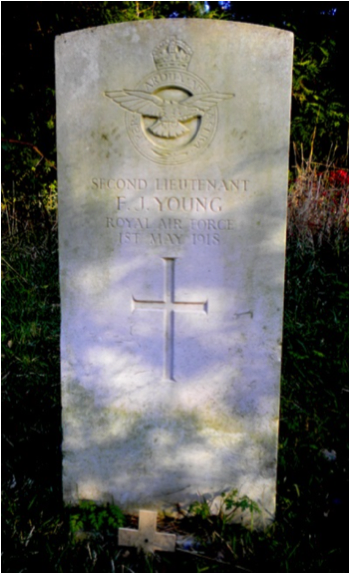 Fred was born on 4th July 1899 in Chelmsford, the eldest son of Frederick Young and Flora Helena Young. His father had been born in 1860 in London; his mother in 1866 in Clapham, south London.
Frederick was baptised at St. Mary's Church, Chelmsford (today's Cathedral) on 9th July 1899, at which time his father was publican at The Plough Hotel in Duke Street, Chelmsford (pictured). Fred's grandfather, Solomon Young, was a well-known farmer and horse breeder of Roxwell who had been closely associated withThe Plough Hotel by 1888, and for some years was proprietor until his son took over.
Fred's had two younger brothers: Walter Basil Young (born on 4th October 1900 in Chelmsford, died in 1977) and Cooksley Bevis Young (1903-1904).
The 1901 census found Fred living with his parents, younger brother and four staff at The Plough Hotel.
On 15th September 1910 Fred joined Form II at King Edward VI's Grammar School in Chelmsford as a boarder. He had previously attended Earl's Colne Grammar School. The admission register recorded his father as a hotel proprietor of 28 Duke Street, Chelmsford. He remained their until 3rd April 1912, when aged 12, he left Form III, and returned to Earl's Colne Grammar School, and later went to Bridlington School in
Yorkshire.
Fred's brother Walter also attended King Edward VI's Grammar School, between May 1909 and April 1912, before also transferring to Earl's Colne Grammar School. Both were recorded by the 1911 census boarding at the school. While at school he was in the Officers' Training Corps (O.T.C.).
Fred had just turned 15 when the war broke out, too young to participate. He had to wait until 1917 when he applied to join the Royal Flying Corps Cadet Wing. As a result he was told to report to its base at South Farnborough on 18th July 1917. By then he had already applied for an officer's commission in the Royal Flying Corps, his application being dated 28th June 1917, a week before his eighteenth birthday.
His application gave his home address as The Plough, 28 Duke Street, Chelmsford and his father as next of kin, with an occupation of 'horse dealer etc. and hotel proprietor', Fred stated that he could ride a horse and drive a car. His application was endorsed by Kenneth Storrs, a prominent Chelmsford doctor who lived in Mayntrees, New Street, who had known him for a decade.
Earlier in June 1916 his headmaster at Bridlington, Arthur Thornton, had written the following letter to the army:
"Fred John Young was a pupil of the school for one year, being recommended to me from the Grammar School, Chelmsford. I have pleasure in certifying that he is of good character and has reached a standard of education suitable for commissioned rank. He is a keen sportsman, good at both cricket and football, and a good athlete. I think therefore that he is a very suitable to enter the Royal Flying Corps."
Having arrived at South Farnborough Fred attested to serve with the Royal Flying Corps for the duration of the war. His medical records, which graded him 'Category A' show that at the time he was 18 years old. five feet seven and a quarter inches tall, with good sight in both eyes. He had a chest measurement of 33.5 inches with three and a half inches of expansion. He weighed nine stone two and a half pounds.
On 26th July 1917 he was formally approved to join the Royal Flying Corps with the service number 88662. By then his application for an officer's commission was in progress and on 5th December 1917 Fred was awarded his commission as a Second Lieutenant on the General List for duty with the Royal Flying Corps.
The following spring the Royal Flying Corps and Royal Naval Air Service were combined to form the Royal Air Force. On 1st May 1918 Fred was killed in a flying accident in Gloucestershire while serving as Second Lieutenant in its 24th Training Squadron.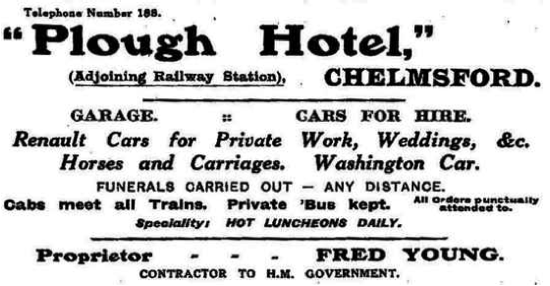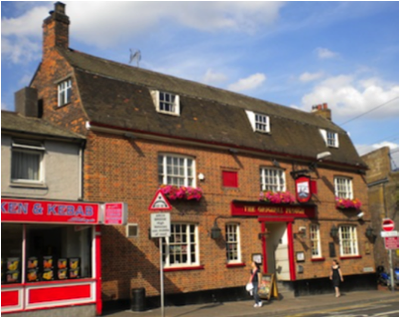 Fred was buried at Chelmsford (Rectory Lane) Cemetery (grave: D. 61) on 7th May 1918.
The July 1918 edition of the King Edward VI's Grammar School's publication, The Chelmsford Magazine, reported:
"F. J. Young was another old boy who lost his life through flying and before he had had any opportunity to show the good sturdy material he had in him."
Fred is commemorated on the Civic Centre Memorial, Chelmsford and by the Chelmsford Parish Great War Memorial in
Chelmsford Cathedral.
The 1918 register of electors listed Fred's parents still at The Plough Hotel in Duke Street. Fred's father died shortly afterwards there, aged 58, and was buried in the same grave as his son on 28th April 1919.
Fred's mother went on to run a hotel at 50 New London Road, Chelmsford (now number 152).
140214