Arthur John Algar was born and raised in Widford, the son of a railway plate-layer who died before he was five. He sang as a chorister in the village church before joining the army early in the war and going abroad in 1915. He was killed in action on the opening day of the German's spring offensive in March 1918.
ALGAR, ARTHUR JOHN*,
Private, 1/8th Battalion, London Regiment (London Irish Rifles) (formerly of the Army Service Corps)
Aged 20, Arthur went missing and was later presumed killed in action on 21st March 1918. He has no known grave and is commemorated on the Arras Memorial in France and on the war memorial at St. Mary's Church in Widford. He is not commemorated on the Civic Centre War Memorial in Chelmsford.
Holly Cottages were demolished around 1931 when the original Chelmsford by-pass was built from Widford to Springfield.
The site of 3 Holly Cottages became part of the Borough of Chelmsford when parts of Widford were absorbed into an expanded Borough in 1934 - prior to that the boundary between the two had run largely down the centre of what is now Widford Road with the parish on the northern side and the Borough on the southern.
140228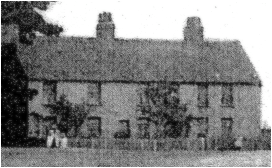 Arthur was born in Widford on 28th June 1897, the son of Walter Algar (1858 -1902) and East Hanningfield-born Emma Algar (nee Lindsell) (1868-1958). His parents has married three years earlier. Arthur's siblings were Walter James Algar (1895-1911), Ruth Jane Algar (1899-1976), George Algar (1900-1954), and Joseph Algar (1902-1960).
Arthur was baptised at St. Mary's Church, Widford on 1st August 1897. At the time his father was a plate-layer living at Widford. In 1901 the census found three year-old Arthur living with his parents, three siblings and an aunt in Widford. His father was still employed as a plate-layer. A year later Arthur's father died, aged just 43.
The 1911 census recorded Arthur, aged 13 and employed as an errand boy for a pork butcher, living with his widowed mother and four siblings at 3 Holly Cottages, the central one of five dwellings next to St. Marys Church in Widford (pictured).
Days later his brother Walter died aged 15 after suffering from pneumonia for four days. He was buried in St. Mary's churchyard on 22nd April 1911; the church where Arthur sang in the choir as a treble.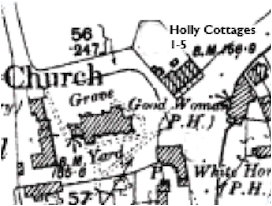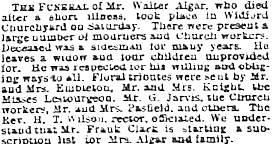 By May 1915 Arthur had joined the army where he served Private 36932 in the Army Service Corps. He then transferred to the 1/8th Battalion of the London Regiment (London Irish Rifles) and in December 1915 was reported to be abroad.
On 13th November 1917 Arthur's uncle, James Lindsell died at 3 Holly Cottages, Widford where he was being nursed by Arthur's mother. James had recently been discharged from the army having contracted a fatal disease whilst in the army.