Guy KIPLING, Sergeant, 90 Squadron, Royal Air Force Volunteer Reserve
Killed when his aircraft crashed in Germany. Aged 24
Guy Kipling was Hampshire-born and worked as a Chelmsford printer before the war. After serving with the Territorial army he joined the R.A.F. in April 1939 and trained for Bomber Command in Canada. His twin brother was killed serving with the R.A.F. in 1941. In 1943 Guy married in Essex. In June of that year Guy's aircraft crashed in Germany on its return from a bombing mission on Mülheim. Guy's widow lived in Eastern Crescent, Chelmsford. A third Kipling brother was killed serving in the army in 1944.
The target had to be marked through a thin layer of stratus cloud but reports indicated accurate initial marking. In later stages of the raid, the markers and the bombing moved slightly, into the northern part of the town; this had the effect of cutting all road and telephone communications with the neighbouring town of Oberhausen, with which Mülheim was linked for air-raid purposes. Not even cyclists or motor-cyclists were able to get out of Mülheim; only messengers on foot could get through. The post-war British Bombing Survey Unit estimated that this single raid destroyed 64 per cent of the town of Mülheim.
In the early hours of the following morning, 23rd June 1943 Guy's aircraft crashed in unexplained circumstances at Duisburg-Beeck in Germany. Guy, James Robson, Jack Picton and Clifford Richard Fenwick died as a result. The four have no known graves and are commemorated on the Air Forces Memorial at Runnymede which lists by name over 20,000 airmen who were lost in the Second World War during operations from bases in the United Kingdom and North and
Guy Kipling was born in Hampshire in 1918, the son of Robert Kipling (1884-1943) and Rosa Kate Kipling O.B.E. (nee Knight) (1889-1995). His parents had married in Northern Ireland in 1914. Guy's siblings were his twin Bernard Kipling (1918-1941), Robert Edward Kipling (1920-2007), Peter Neville Kipling (1922-1944) and Pauline Kipling born in 1923.
He joined the Royal Air Force Volunteer Reserve on 26th April 1939 having previously served in the Territorial Army. Following training in Canada, within the Royal Air Force he served as Sergeant 657159 in 90 Squadron, a bomber command unit, as an observer and then as a navigator.
Prior to the war Guy worked for Messrs H. G. Shergold and Son, printers of Duke Street, Chelmsford.
Guy's twin, Bernard, was killed in 1941 while serving as a Sergeant (Observer) in 51 Squadron, Royal Air Force.
Guy married Peggy Lucas in the Chelmsford District in 1943.
In late May 1943 the squadron arrived at R.A.F. West Wickham
(later renamed Wratting Common) on the Cambridgeshire-Suffolk border. On 22nd June 1943 at 11.26 p.m. Guy was on board a Stirling III aircraft BK804 (markings WP-J) with six other crew members which took off from the airfield, for a bombing raid on Mülheim in Germany. Some 557 aircraft - 242 Lancasters, 155 Halifaxes, 93 Stirlings, 55 Wellingtons, and 12 Mosquitos participated in the raid.
Guy's aircraft had only been delivered to the squadron on 9th June 1943. The other crew were the pilot Flight Sergeant 1044114 James Allan Robson (aged 23), Sergeant (Flight Engineer) 1289237 Newell Graham (aged 33), Sergeant 658095 Jack Picton (aged 25), Sergeant (Wireless Operator) 1196410 Daniel Sanders (aged 23), Sergeant 522339 Clifford Richard Fenwick, and Sergeant (Air Gunner) 1335044 Reginald Hammond.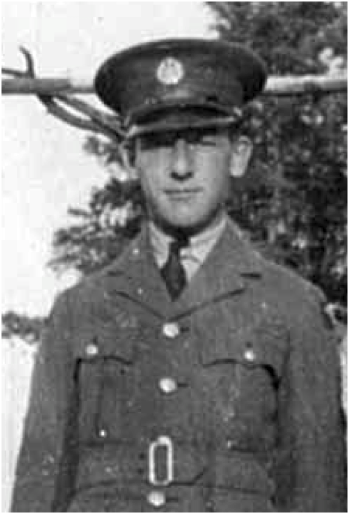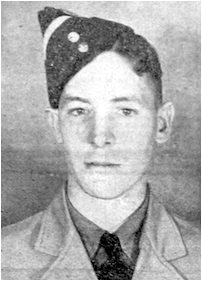 Western Europe, and who have no known graves.
Reginald Hammond, Newell Graham and Daniel Saunders also died and their bodies were initially buried at Nordfriedhof Düsseldorf and today lie in Reichswald Forest War Cemetery. Some reports suggest that they survived the crash and were killed by the Germans. Another Stirling bomber from 90 Squadron was also lost that night.
At the time of his death Guy's wife was living at 87 Eastern Crescent in Chelmsford; his mother at 'Ashcroft' (today's number 192) in Broomfield Road, Chelmsford. Guy left an estate valued at £135 7s. 9d. with probate granted to his widow.
Guy is commemorated with his brothers by Broomfield's British Legion war memorial and on a stained glass window at St. Mary's Church in Broomfield. Guy's brother, Peter, died in 1944 while serving in the Royal Army Service Corps. His mother lived to be 105.
Guy's widow remarried in 1949.
150324