Jack Morris Moore (sometimes John Morris Moore) was born and brought up in Chelmsford where he was educated at the town's St. John's School in Moulsham Street. Shortly before the war's outbreak he married at St. John's Church, Moulsham, working at the time as an accountant's clerk. He subsequently joined the R.A.F., serving in Bomber Command. He was killed on his seventh mission in July 1944 when his aircraft was shot down near Stuttgart in Germany. His parents and wife lived in Upper Bridge Road, Chelmsford.
Jack was born in Chelmsford on 21st December 1913, the son of Bertie Moore (1890-1967) and Emily Jane Moore (nee Outten) (1889-1953). Bertie's parents had married at St. John's Church, Moulsham on Christmas Day 1911. At the time they were living at 22 Upper Bridge Road, with Jack's father a 25 year-old fitter. His mother was aged 22 at that time.
Jack was baptised at St. John's Church, Moulsham on 11th February 1914. His father was still employed as a fitter and living in Upper Bridge Road, Chelmsford. Jack had an elder brother, Lester Bertie George Moore (1912-1989).
Jack was educated at St. John's School next to St. John's Church in Moulsham Street, Chelmsford.
On 19th August 1939, days before the outbreak of war he married Edith May Whybrow at St. John's Church. Moulsham. At the time he was 25 years old, living at 30 Upper Bridge Road in Chelmsford, and working as an accountant's clerk. His bride was the 25 year-old daughter of Herbert Whybrow and she lived at 23 Bradford Street in Chelmsford. His wife's cousin, William James Whybrow had lost his life in the First World War; while his wife's aunt, Hannah Whybrow was to be killed in an air raid on Chelmsford in 1941.
During the Second World War Jack served as Sergeant (Wireless Operator/Air Gunner) 1615731 in the Royal Air Force.
Jack Morris MOORE, Sergeant (Wireless Operator/Air Gunner), 166 Squadron, Royal Air Force Volunteer Reserve. Killed when his aircraft was shot down over Germany. Aged 30
Our Pilot was Bill Shearer, who was an American who joined the R.C.A.F. Then while in Wymeswol F, he transferred to the U.S. Air Force on detached service. The navigator was Wally Hodgkins from Alberta, the Bomb aimer was Ed Bryant from Chatham Ontario . The Radio operator was Jack Moore from London England. Engineer John Barr from Coventry and Arthur Henderson and myself. John Barr before he joined the R.A.F. had been a professional boxer and a test car driver for the Rootes Group which made Hillman cars, and some others."
Had Alden Peacock not changed positions with Arthur Henderson that day he may have gone on to lose his life with Jack. As it was Alden married and had the son and two daughters and survived the war.
Jack was subsequently posted to 166 Squadron, Royal Air Force, a Bomber Command unit based at R.A.F. Kirmington in Lincolnshire, with effect from 15th June 1944, along with three of the airmen in the photograph - Flight Officer William Shearer (United States Army Air Force), Flight Sergeant (Air Bomber) R/183553 Edward Maines 'Ed' Bryant (Royal Canadian Air Force), and Flight Sergeant (Air Gunner) R/219136 Arthur James Henderson (Royal Canadian Air Force).
They were joined by three others to form the regular crew for Flight Officer Shearer - Sergeant (Flight Engineer) 1594207 Bernard Stanley Winskill Elliot, Flight Sergeant G.A. Holmes (Navigator), and Flight Sergeant (Air Gunner) 1810802 George Henry Sims, who was on his second tour of duty having previously flown with 10 Squadron where he was awarded the Distinguished Flying Medal.
Flight Officer Shearer, as was the custom for pilots, flew as 'second dickie', flying with an experienced crew as a passenger prior to taking his crew up for their first operation.
By the time the crew took part in their first operation Flight Sergeant G.A. Holmes had been replaced by Flight Sergeant R/134936 George Arthur Hodgkins (Royal Canadian Air Force) as Navigator - so the crew was Shearer, Elliot, Hodgkins, Moore, Henderson, Sims, and Bryant.
That first mission started on the evening of 5th July 1944 when the crew took off at 9.15 p.m. in Lancaster ND628 for a raid on Dijon in France. At 1.56 a.m the following morning the aircraft bombed from 8,500 feet onto a concentration of smoke and bomb bursts. A good concentration of bombing had been built up and a large orange explosion was seen a minute later. The aircraft landed back at base at 6 a.m. on 6th July 1944.
Later that same day, at 6.45 p.m. the crew took off in Lancaster LL896 for a raid on Foret Du Croc, their second operation. They released their bombs at 9 p.m. from 18,000 feet on red target indicators. They landed back at base at 10.45 p.m.
Their third operation started in the evening of 12th July 1944 when the crew took off at 9.20 p.m. in Lancaster ME748 for a raid on Revigny Sur Ornain in France. They bombed at 2.01 a.m. the following morning from 3,500 feet on the red glow. What little bombing that was seen was very scattered. The aircraft landed at 6.29 a.m.
Two nights later their fourth operation was on the same target; flying in Lancaster ME835. Their aircraft took off at 9.30 p.m., but the mission was abandoned on the instructions of the Master Bomber. They touched down at 5.35 a.m. the following morning.
On the morning of 18th July 1944 the crew took off at 3.05 a.m. in Lancaster ME835 for a raid on Sannerville; their fifth operation. The aircraft released its bombs at 5.47 a.m. from 7,500 feet on the centre of the target indicator red on the southern edge of the smoke concentration. The target area was a mass of smoke. They landed back at base at 7.25 a.m.
Jack's sixth operation started in the evening on 23rd July 1944 when the crew took off at 10.50 p.m. in Lancaster ND634 for a raid on Kiel in Germany. They dropped their bombs at 1.25 a.m. the following morning from 20,500 feet on reflection of target indicator green seen through a cloud. A solid mass of fire was seen through the cloud. Their aircraft landed back at base at 3.45 a.m.
Later that day the crew began their seventh mission. Their aircraft, a Lancaster III ND634 (markings AS-U), took off at 9.10 p.m. for an overnight raid on Stuttgart in Germany in which 461 Lancaster aircraft and 153 Halifax aircraft participated. It was to be the first of three heavy raids on the city over five nights.
Jack's aircraft was one of 17 Lancaster aircraft that were lost during the raid. It was brought down half a kilometre from Ölbronn, eleven kilometres north Pforzheim around 2.15 a.m. on 25th July 1944. The crash site is in Germany about 30 miles west of Stuttgart. All on board were killed.
The three raids caused the most serious damage of the war in the central districts of Stuttgart which, being situated in a series of narrow valleys, had eluded Bomber Command for several years. They were now devastated and most of Stuttgart's public and cultural buildings were destroyed.
Today Jack and his crew mates lie in Durnbach War Cemetery, Bad Tolz, Bayern in Germany, some 45 kilometres from Munich (Collective grave 9. D. 10-13.). The site for Durnbach War Cemetery was chosen, shortly after hostilities had ceased, by officers of the British Army and Royal Air Force, in conjunction with officers of the American Occupation Forces in whose zone Durnbach lay. The great majority of those buried here are airmen shot down over Bavaria, Wurtemberg, Austria, Hessen and Thuringia, brought from their scattered graves by the Army Graves Service. The remainder are men who were killed while escaping from prisoner of war camps in the same areas, or who died towards the end of the War on forced marches from the camps to more remote areas. The cemetery contains 2,934 Commonwealth burials of the Second World War, 93 of which are unidentified.
At the time of his death Jack's parents were living at 30 Upper Bridge Road, while his wife was at 188 Upper Bridge Road. She died in 1995.
190409

He is pictured above, second right, at R.A.F. Wymeswold in Leicestershire in front of a Wellington bomber during training with, left to right the following crew mates: Alden Peacock, mid upper gunner, from Beebe, Quebec, Canada; William Shearer, pilot, from New Rochelle, New York, U.S.A.; Ed Bryant, bomb aimer, from Stratford, Ontario, Canada; George Hodgkins, navigator, from Winnipeg, Manitoba, Canada; and Arthur Henderson, tail gunner, from Beebe,Quebec, Canada.
After training at R.A.F. Wymeswold the crew were transferred to R.A.F. Lindholme in Yorkshire to convert from Wellington's to Halifax IIA aircraft. During this period, on 29th of April 1944, their aircraft crashed, but fortunately all of the crew survived. In 1984 Alden Peacock, the mid-upper gunner, recalled the incident and details of the crew in a letter to his daughter Pam: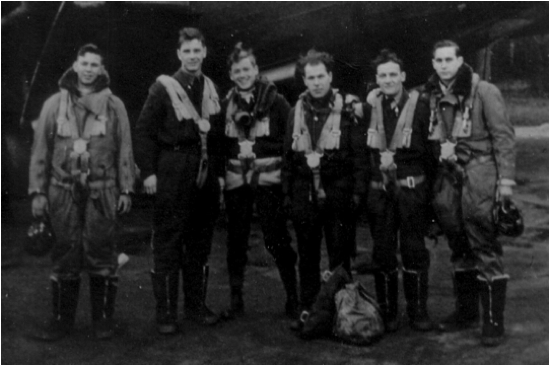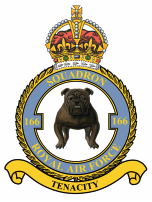 "At Lindholme we started flying in Halifax IIA's and on our first day of flying without an instructor pilot we had our crack up. We had been doing circuits and landings for about two hours. Arthur Henderson, who has been in the tail gun turret was getting rather tired of it. so he asked me if I would change places with him. There was no mid-upper turret, which was my position, so I had been up front with the Pilot Bill Shearer and John Barr the flight engineer, helping with raising and lowering the flap and little things. So to give Arthur a break, I took his place in the rear turret while we were going around on the ground.
As we were taking off and about 50 feet from the ground our starboard outer engine shut off, the wing tip dropped and hit the ground and we spun like a top. The last thing I remember was hearing the Pilot say "Hang on we're going to crash". I woke up in the civilian Hospital in Doncaster about four hours later. There were a couple of doctors and two or three nurses cutting my clothes up the sleeves and legs to get me out of them without moving me around too much. I looked at the nurses, and they seemed to be very pretty, and I said "If this is Heaven, I am going to like it".
When I realised I wasn't dead I asked about the other fellows and wouldn't believe there were ok until they came to visit me the next day.
I was told that the turret and I were found about 40 feet in front of the airplane, of which both wings were off, the fuselage broken in three places so some of the boys just walked out the side of it. The Pilot went out the top and ran to the rear to see if I was ok, but couldn't find me. One of the fellows in the crash truck found me lying outside the turret.. No ones knows how I got out. They told me I talked to them normally while I was lying there in the ambulance to the station hospital and while I was there before being taken to Doncaster Hospital, but I have no recollection of it at all. The station engineer said he had never seen a plane in so many pieces and every one get out alive. It was rather humorous, while they were standing around the plane they heard a hissing noise and ran away from the plane thinking it was the gas tank about to blow up, however it was only the dinghy opening up.
After almost six months in hospital I was sent back to Canada, and they took another fellow into the crew in my place and another engineer in place of John and finished the training at Lindholme.