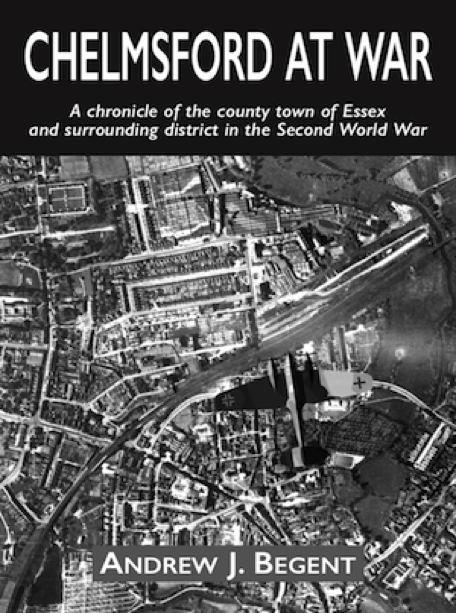 'Chelmsford at War'
New Edition to be published in November 2020
ISBN 978-1-5272-7264-4
Author's Preface
Welcome to the 2020 edition of 'Chelmsford at War', a study of the county town of Essex and its surrounding district during the Second World War.
This edition is considerably expanded from the original (1999) version of the book, following further research over the intervening period.
As with the 1999 version I have produced this edition in the format of a newspaper, with 'stories' arranged in chronological order, covering preparations for the war, the war years and some postwar events, together with a very comprehensive index to aid the reader.
The book may appear to be a collection of carefully arranged extracts from wartime newspapers. However, newspapers of that period avoided the inclusion of any information of potential value to the enemy, so they tend to be scant in details of the bombing and aircraft incidents necessary for this book.
Instead the 'stories' were written from a variety of original sources and converted to their newspaper format - the intention being to allow the reader to both dip in and out of matters of interest to them and/or read the book conventionally from start to finish. Details of the research can be found on page 346.
The expansion from the 1999 version has resulted from a number of factors. These include: the inclusion of far more material regarding the military units that operated in the Chelmsford district; a significant increase in the number of 'eyewitness accounts'; the discovery and use of records relating to Chelmsford's Air Raid Precautions committee hitherto thought lost; the use of new maps to show the locations of key incidents; the inclusion of additional non-military stories; and the proliferation of other relevant material on the internet - something that was only in its infancy in 1999.
The majority of the illustrations are from my own collection, some collected over many years and others, particularly the maps, created specifically for this edition. Illustrations that have been provided by others are marked with appropriate credits where the copyright holder has been confirmed.
I am grateful for the assistance provided to me by numerous people in the creation of the book, far too many to list here. These include archival staff, interviewees, other researchers, and friends and family who have encouraged me to complete this work. 
I hope that readers find the book interesting and informative and if it improves readers' understanding of events three-quarters of a century ago then my intent behind its creation will have been satisfied.