William Robert Elliston came to Chelmsford from Ipswich to work as a printer's compositor. He joined the army in November 1915, and the following February was married. He went to France in May 1916, and died from wounds received at the Battle of the Somme in September 1916. His widow lived in Lady Lane.
ELLISTON, WILLIAM ROBERT,
Corporal, 18th (Service) Battalion, King's Royal Rifle Corps
William's battalion landed in France in May 1916, and that summer and autumn it participated in the Battle of the Somme. William was wounded in action in the thigh on 15th September 1916, was operated upon, but died on 22nd September 1916 at Number 5 General Hospital in Rouen. He was aged 28 and had been married for less than eight months. He is buried at St. Sever Cemetery, in Rouen, Seine-Maritime, France (grave: B. 20. 43). During the war Rouen was home to more than a dozen military hospitals and it is likely that he had been evacuated their from the front enroute to England when he died.
News of his death first appeared in the local press in the Essex Weekly News of 29th September 1916:
"Corpl. W. R. Elliston, K.R.R., whose death from wounds is reported, was formerly employed in Mr. J. Dutton's printing works at Chelmsford, and he married the daughter of Mr. E. J. Barker, of Lady-lane."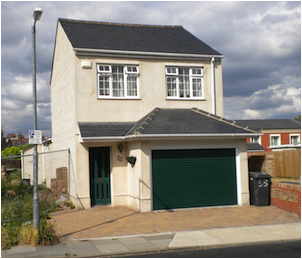 William was born in Ipswich, Suffolk in 1888, the son of William and Annie Elliston (nee Ungless). His parents had been born in Ipswich in 1863. They had married in 1885 in Suffolk.
William's sisters, all Ipswich-born, included Ethel Annie Elliston (1895-1972), Elsie Harriett Elliston (1898-1973), Ivy May Elliston (born in 1903) and Doris Elliston (born in 1908). A fifth sibling had died in childhood.
At the time of the 1891 census William (aged two) was living with his parents at 44 Alexander Road in Ipswich. His father was a plasterer, a profession he still held a decade later at the 1901 census. That found 12 year-old William living with his parents and two sisters at 28 Handford Road in Ipswich.
The 1911 census recorded 22 year-old William boarding with William and Adelaide Trigg at 2 St. John's Road in Chelmsford (renumbered as 6 in 1939). At the time William was a compositor for a printer's - most likely the firm of John Dutton of Tindal Street, Chelmsford - there he was a colleague of Leslie Charles Cooper. The household also included the Triggs' 28 year-old son William and another boarder, William Hembert. At that time William's parents and four sisters remained in Ipswich.
In May 1913 William was elected Honorary Secretary of the newly formed Chelmsford Printing & Allied Trades' Athletic and Social Club. At its formation the club had around 40 members. Membership was around 50 a year later, some 75% of the print workers in Chelmsford.
On 15th November 1915 William enlisted at Romford and served in the 18th (Service) Battalion of the King's Royal Rifle Corps. He was given the service number C/7540. His battalion, known as the Arts and Crafts Battalion, had been formed in Gidea Park in June 1915 by Sir Herbert Raphael, and formed part of the 122nd Brigade in the 41st Division of the army. His attestation papers (Short Service for the duration of the War) show that William had previously served with the 1st Battalion of the Suffolk Regiment. They also show that he was 28 years and two months old, employed as a printer and resident at 16 Lady Lane, Chelmsford, the address of his future wife (re-numbered as 33 in 1930). He was five feet five and a half inches tall with a chest of 34 and three-quarters inches. His next of kin was his father of 78 Camden Road, Ipswich.
In late 1915 William spent short spells in the 19th and 23rd Battalions of the King's Royal Rifle Corps before retuning to the 18th (service Battalion). He was promoted to the rank of Lance Corporal.
He married 32 year-old Ada Jane Barker, the daughter of the master baker Edward John Baker and Mary Baker (nee Kendall) at St John's Church, Moulsham on 19th February 1916, at which point he was described as a soldier. Ada, one of three children, had been born on 10th July 1883 in Witham, but her mother died in 1892 and was buried at St. Mary's Church in Great Baddow. Ada's father remarried, to Mary Ann Page Terry, two years later, produced two more children, but she too died young in 1903 and was also buried at St. Mary's Church.

The following week Essex County Chronicle of 6th October 1916 carried a short report on his death:
"The death has occurred from wounds of Corpl. Wm. Robert Elliston, King's Royal Rifles, of Chelmsford, son-in-law of Mr Barker of Lady Lane. The deceased was wounded in the thigh, and although a successful operation was performed he did not survive. He was 28 years of age, and before going to war was in the service of Mr John Dutton, Tindal Street, Chelmsford."
On 8th February 1917 the Rifles Record Office in Winchester received instructions from the War Office to send William's personal effects, which included a gold signature ring, wrist watch, cigarette case, pipe, mirror, platoon roll and linen bag, to his widow at 16 Lady Lane. She acknowledged receipt on 9th April 1917.
William is commemorated on the Civic Centre Memorial, Chelmsford, and the Moulsham Parish Memorial, St John's Church, Moulsham. He was entitled to the Victory and British War medals.
The 1918 register of electors listed William's father-in-law still at 16 (now 33) Lady Lane. He died in 1927, aged 72.
Ada never remarried after William's death and lived the rest of her life with her half-sister, Gladys (who remained a spinster), at 4 Bouverie Road in Chelmsford.  Their house was very old fashioned - they had an outside loo and no bathroom - and it was never updated although they lived there their entire lives. Ada worked on the haberdashery counter at Bonds (now Debenham's) in Chelmsford High Street and eventually died on 10th April 1977, aged 94, at St John's Hospital, Chelmsford from pneumonia. Her sister and lifelong companion Gladys died in 1980, aged 85, at the same hospital, of the same disease.
The photograph left is of William's widow Ada, taken in London around 1946.
William's mother died in Suffolk in 1931, aged 68; while his father died in Suffolk in 1953, aged 90.
Acknowledgements to Laura Bennett
131012