Stanley Victor Sherrington was born in Suffolk in 1918 and came to Chelmsford around 1935. By the time he married in 1942 he was already serving with R.A.F. Bomber Command. He was killed on his second operation when his aircraft was shot down over the North Sea. A brother was also killed serving with the R.A.F. Their home was in Lady Lane. He had a son born after his death
Stanley Victor SHERRINGTON, Sergeant, 51 Squadron, Royal Air Force Volunteer Reserve
Killed in the North Sea on the return from bombing Hamburg. Aged 25
On 29th July 1943 Stanley took part in his fourth mission. He was one of seven men on board a Halifax II bomber (JD309) from 51 Squadron which took off at 10.51 p.m. from R.A.F. Snaith, seven miles south-west of Goole in Yorkshire, one of 777 aircraft briefed to attack the German city of Hamburg, the third massive attack on the city in a week. The bomber force consisted of 340 Lancaster aircraft, 244 Halifax aircraft, 119 Stirling aircraft, 70 Wellington aircraft, and 4 Mosquito aircraft.
Stanley's crew mates were the pilot Flight Sergeant 1527064 Arthur Fletcher (aged 22); Sergeant 1530030 Cuthbert Watkin (aged 21); Sergeant 1337107 Denis James Audley; Sergeant (Wireless Operator/Air Gunner) 1214527 Raymond Worrall; Sergeant 1233899 Dennis Barker (aged 22); and Sergeant 1483072 Ronald Stanley Smith (aged 21).
The two previous raids on Hamburg had been very successful from the R.A.F.'s perspective with a firestorm caused on the night of 27th/28th July 1943 claiming the lives of many thousands of people.
However, on this third raid the German air force tasked with attacking the R.A.F.'s bombers fully introduced a new tactic for its night fighters. Previously the German aircraft had flown within a rigid series of 'boxes' (known as the Kammhuber Line) and any particular aircraft was not permitted to fly outside of that selected for it. The new tactic allowed the German aircraft to roam freely looking for their prey in a tactic known as 'Wilde Sau' (Wild Boar). After th He e first two raids much of Hamburg lay in smouldering ruins and the third raid was not expected to face too much opposition. However, the Widle Sau tactic paid dividends for the Germans shooting down 28 bombers (3.6 per cent of the force), including Stanley's which was presumed to have crashed into the North Sea in the early hours of 30th July 1943. All on board were killed.
The only body recovered was that of Raymond Worrall which was washed ashore on 7th August 1943 near Katingsiel. He was initially buried at Tönning, and today lies at Hamburg Cemetery.
Stanley is commemorated on the Air Forces Memorial at Runnymede which lists the names of over 20,000 airmen who were lost in the Second World War during operations from bases in the United Kingdom and North and Western Europe, and who have no known graves.
At the time of his death Stanley's mother was living at 30 Lady Lane in Chelmsford; his pregnant widow was resident at 18 Marconi Road in Chelmsford. In early 1944 she gave birth to Stanley's son, Michael Stanley Sherrington who died in 2004. Stanley's widow remarried in 1950 and died in 1988. She is pictured below with Stanley's son.
210315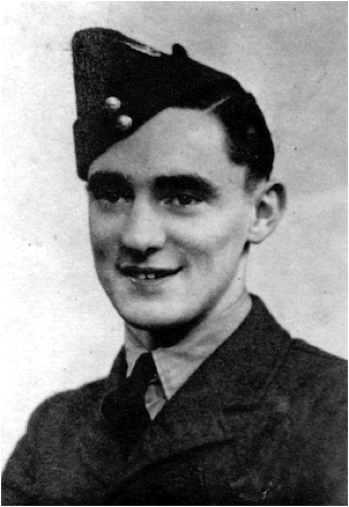 Stanley Victor Sherrington was born in Waldringfield, Suffolk in 1918, the son of the builder William Joseph Sherrington (1880-1929) and Annie Maud Sherrington (nee Bloomfield) (1881-1975).
Stanley's siblings were William Frederick Sherrington (1906-1973), Ivy Maud Sherrington (born 1909), Ronald George Sherrington (1911-1991), Olive Vera Sherrington (1913-1998), Gladys Lilian Sherrington (born 1915), and Roy Claude Sherrington (1921-1943). Stanley's elder siblings were all born in north London where Stanley's father had worked in the building trade.
Stanley's father died at Lynfield, Main Road, Witham in 1929. He left an estate of £5,642 to Stanley's eldest brother William Frederick Sherrington, a builder. He ran the Aysher Motor Craft Company and also owned the 'Aye Aye Cafe' on the A12 in Witham.
During the Second World War Stanley served as Sergeant (Flight Engineer) 908776 in 51 Squadron, Royal Air Force.
On 28th March 1942 Stanley
married Eileen Emily Fisher at Chelmsford Cathedral. At the time he was aged 24 and a Leading Aircraftman. His bride, who lived at 18 Marconi Road in Chelmsford, was the 19 year-old daughter of Ernest Henry Fisher, a machinist. A local newspaper eported:
"Cathedral Wedding. On Saturday at the Cathedral, Miss Eileen Emily Fisher, elder daughter Mr. and Mrs. E. H. Fisher, of Marconi Road, was married to L.A.C. Stanley Victor Sherrington, of The Friary, Lady Lane. Provost Morrow officiated, and Mrs. Harrison was at the organ, playing Handel's Largo, the March from Lohengrin, Mendelssohn's Wedding March, and accompanying the hymns.
The bride's dress was of ivory cloque, with full train, ivory tulle veil, headdress of orange blossom, and shower bouquet of pink and white carnations, which was afterwards placed on her grandfather's grave.
The bridesmaids were Miss Christine Fisher (chiet; sister of the bride), Miss Audrey Burris (friend), and Miss Pauline Leathers (niece of the bridegroom). The two elder ones wore cerise moue taffeta dresses, with headdresses to match; the younger had a white taffeta dress and poke bonnet trimmed with cerise satin. All three carried rouched satin muffs. Their gold bracelets were the gifts of the bridegroom.
A reception was held by the bride's parents at the Golden Fleece Hotel. The bride's going away attire included a grey lambkin coat and Wedgwood blue dress with black hat and accessories.
The presents included a clock from the staff of Messrs. Gepp and Sons, solicitors, the bride's employers. Flight-Sergt. Sherrington was best man to his brother. leaving the church the bride was presented with a silver horseshoe by little Yvonne Trinder (cousin)."
In April 1943 Stanley's younger brother Roy was killed while serving with 23 Squadron in Malta