Emma Tanner was born and raised in Chelmsford. He married in 1895 and had five children with her husband, seven-time Mayor of Chelmsford, John Ockelford Thompson. One of her sons was killed in Palestine in the First World War. She was killed along with her husband, a son, two grandchildren and a servant when their New London Road home was struck and destroyed by a German bomb in October 1940.
Emma THOMPSON (nee TANNER), Civilian
Killed during an air raid in New London Road, Chelmsford. Aged 78
Debris was strewn across New London Road and caused its closure between Queen Street and Southborough Road. The mayor, his family including Emma and servants were at home and were thought to have been sheltering in the basement when the bomb struck.
The rescue services were soon at work on the scene and by 10.40 p.m. New London Road had been cleared. However, it was not until 1.01 a.m. that the first casualty figures were received at the Police H.Q. - "Ten people involved (actually nine), two children recovered dead, three householders rescued but one injured, mayor and mayoress still unaccounted for". The dead children were the mayor's grandchildren, 8 year-old Audrey Mary Thompson and her 14 month-old sister Diana Louisa Thompson. Their mother, Muriel who suffered serious injuries, was one of those rescued, along with a nurse and another daughter-in-law of the Mayor. By 5.31 a.m. a further two bodies were recovered, and by 11.50 a.m. another, the fifth fatality, was found. Rescue workers continued their search into Tuesday and in mid afternoon the remains of sixth body, a servant, were found. The four adults killed were subsequently identified as the mayor, 68 year-old John Ockelford Thompson C.B.E. D.L. J.P., his 78 year-old wife Emma, their 41 year-old son Lt-Col. Thomas Cloverley Thompson and Alice Maud Emery, also 41, who was a servant to the family.
The funeral service of Emma and his family was held at Chelmsford Cathedral on 16th October 1940. Their five coffins were placed in the building overnight prior to the service. Their deaths had come as a great shock to the town and the Cathedral was filled to overflowing for the service which was conducted by the Bishop of Chelmsford and the Provost, the Very Rev. William Morrow. The congregation was swelled by a considerable number dignitaries from all over Essex and beyond. After the service the coffins were driven to the Borough Cemetery for burial, passing the remains of Brierley Place on the way. Large crowds lined the route. Emma was buried in grave number 6182. Her husband, son and grand daughters were buried close by.
121007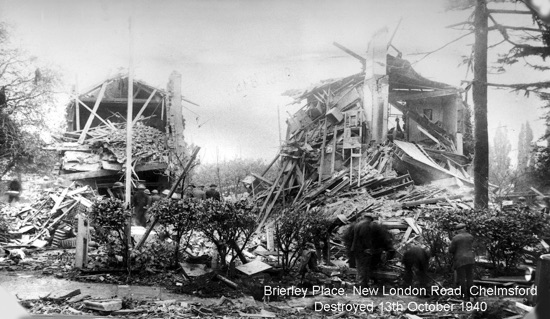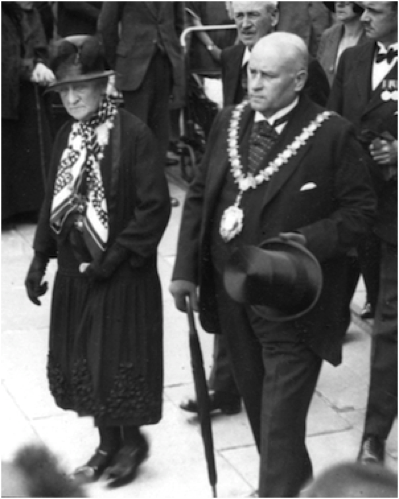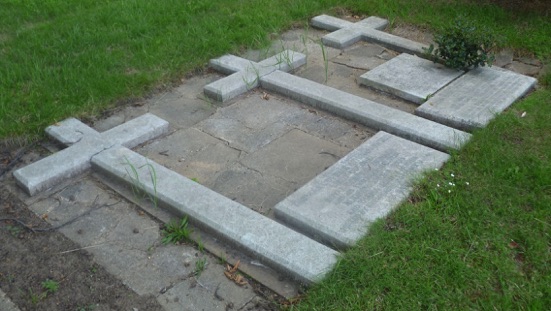 Emma Tanner (pictured letf in 1929 with her husband, copyright Chelmsford Museum) was born in Chelmsford in 1862, the daughter of Henry Tanner and Elizabeth Tanner. Her siblings, all Chelmsford-born, included: Henry William Tanner (born in 1848), William Tanner (born in 1850), Elizabeth Sarah Tanner (born in 1851), Matilda Tanner (born c1854), and Mary Ann Tanner (born in 1861).
In 1871 the census recorded eight year-old Emma living with her parents and five sibllings in Duke Street, Chelmsford. Her father was a plumber and glazier employing 14 men. A decade later the census listed 17 year-old Emma living with her parents, five siblings and a servant at 12 Duke Street. Her father was still employed as a plumber, then employing six men.
The 1891 census found Emma, aged 28, staying with her brother William and his family at 68 Duke Street. She was 'living on her own means'.
In 1895 Emma married John Ockelford Thompson, ten years her junior, and the couple were to have five sons, all Springfield-born: Cyril James Ockelford Thompson and his twin Reginald John Tanner Thompson (born 28th July 1896, christened at Holy Trinity Church in Springfield on 2nd August 1892), Thomas Cloverley Thompson (born on 25th May 1899 and christened at Holy Trinity Church in Springfield on 25th July 1899), William Brierley Thompson (born on 6th February 1901) and Robert Thompson (born on 19th August 1904).
The 1901 census listed Emma, living with her husband and four sons and two servants at 3 Meadowside in Springfield. He was described as a newspaper proprietor. Following his father's death in 1908 until his own, Emma's husband was editor and part proprietor of the Essex Chronicle. In April 1911 the census recorded Emma, her husband, five sons and two servants at The Eaves in Springfield Road, Springfield.
Emma's son, Cyril James Ockelford Thompson, died of wounds on Christmas Day 1917, in what is now Israel, while serving as Lieutenant in the 18th Battalion of the London Regiment (London Irish Rifles). He was aged 21.
As well as working as a newspaper editor Emma's husband was a prominent local dignitary and was Mayor of Chelmsford on several occasions including 1939-40.
Emma was killed on Sunday 13th October 1940 when Chelmsford suffered its most serious bombing incident of the war to date when a lone Luftwaffe aircraft dropped two bombs over the town. At 7.30 p.m. one of these, a high explosive, scored a direct hit on her home, Brierley Place (number 52), New London Road. The bomb is believed to have passed through the building and exploded in its basement, 'collapsing it like a pack of cards'.